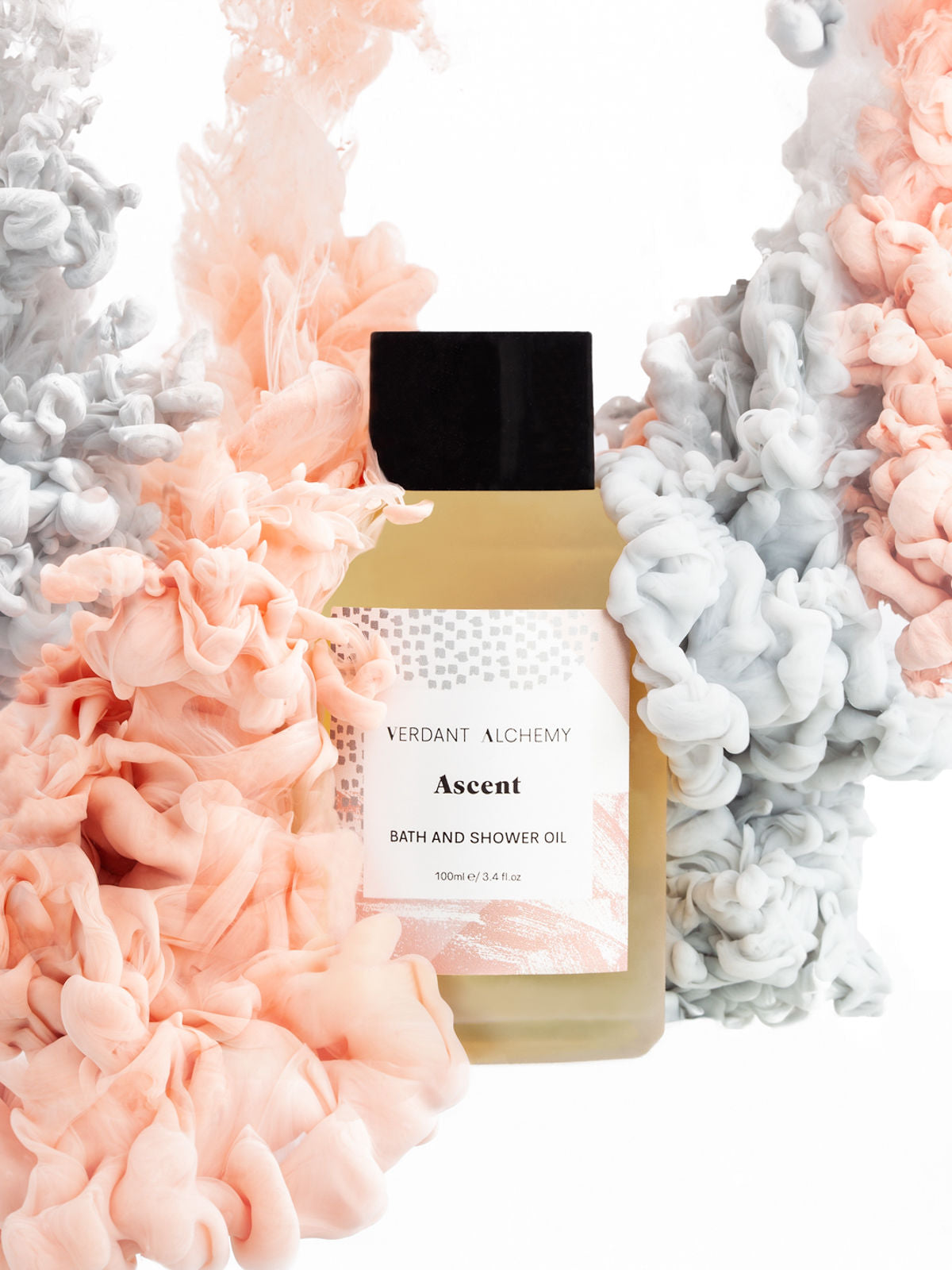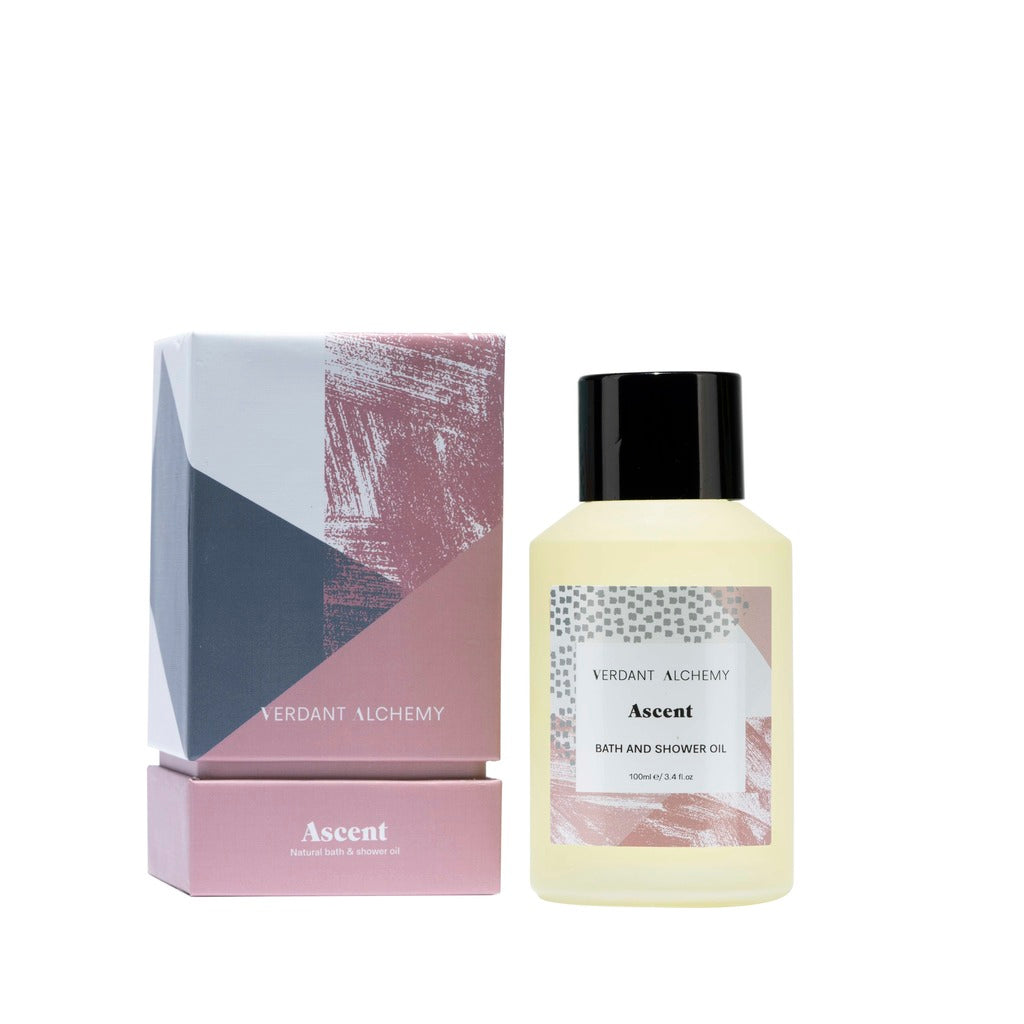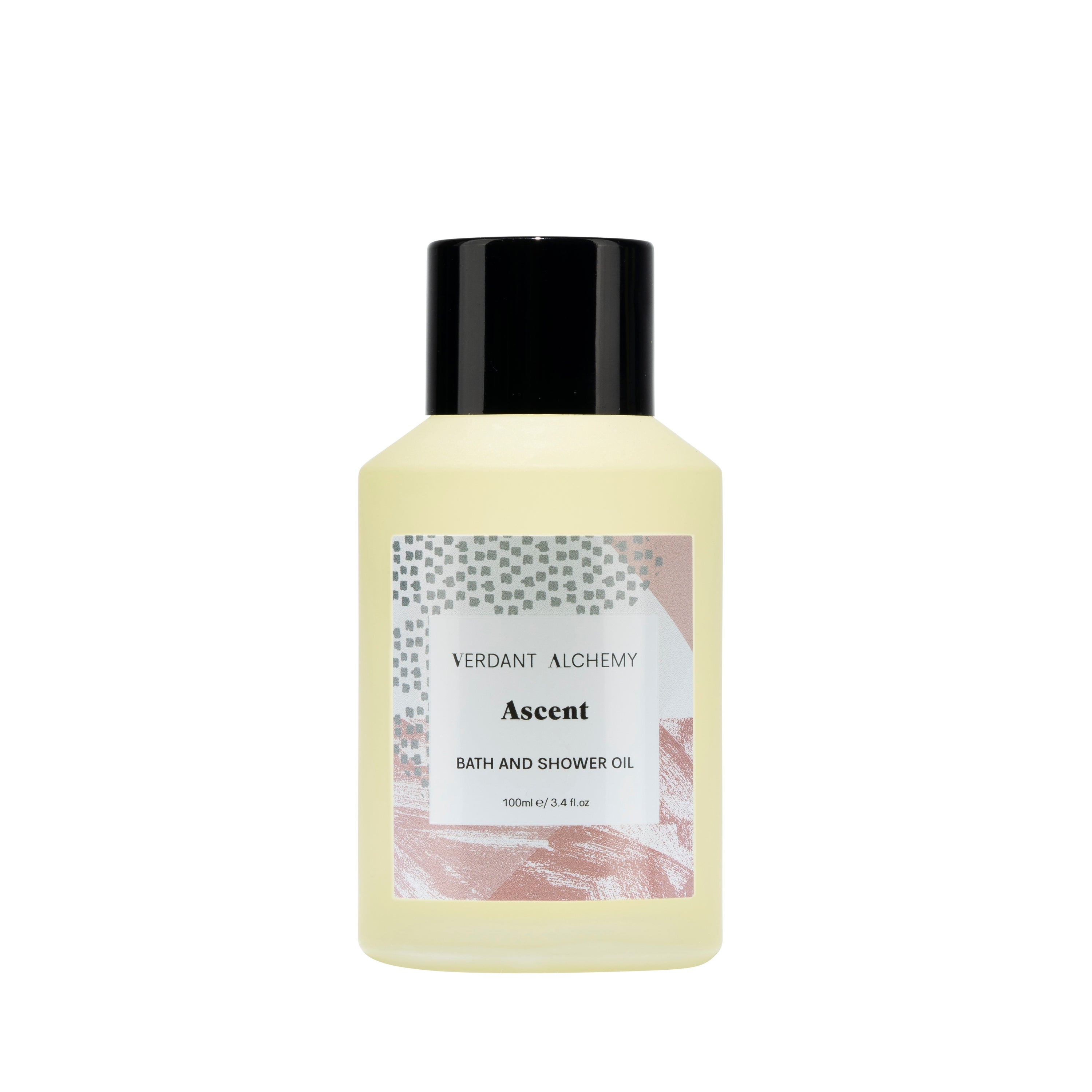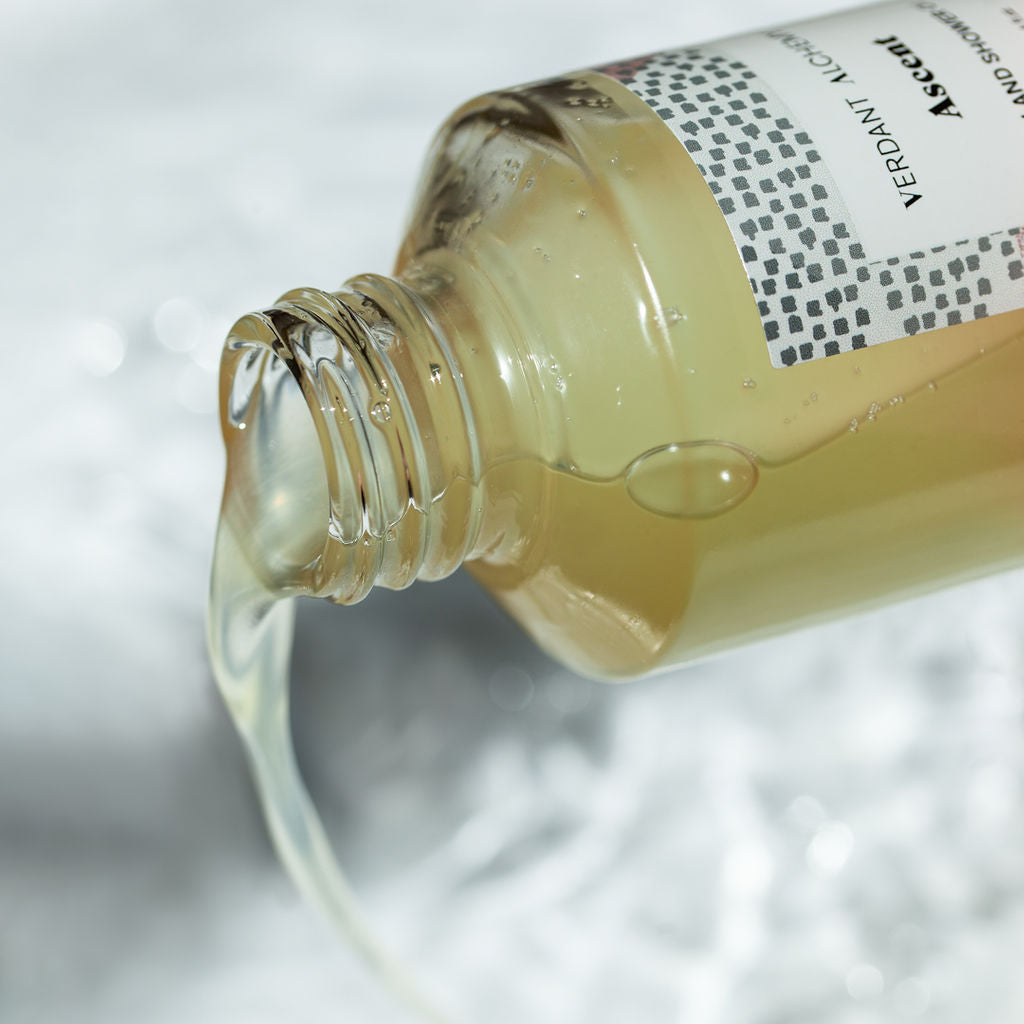 Ascent Bath & Shower Oil 100ml
Description
More Information
FAQ
100% Natural Origin
Purpose: Naturally relaxing | Boost emotional wellbeing
Great for: Feeling Low | Stress | Emotional well-being

Notes: Geranium Rose | Lavender | Hints of Woodiness
Indulging in a luxurious bath is a proper treat, and it can't get better than our NEW Ascent bath oil. This naturally uplifting and energising bath and shower oil will combat low energy and improve overall wellness.
 The 
Ascent oil has the ability to aid calm and was formulated to ease emotions; essential oils such as geranium are known to reduce the feeling of sadness and tension. Soaking in a bath with our botanical bath oils will lead to softer and more radiant skin. After a long, emotional day, this oil has the ability to calm you down and leave your body relaxed and rejuvenated. 
Apricot Kernel Oil | A nutrient-rich lightweight oil that will leave your skin moisturised and hydrated. Brimming full of Vitamin K, Vitamin E and Omega 9 fatty acids, the oil will nourish and soothe skin.

Lavender| One of the world's most versatile essential oils, a natural relaxant, to calm your mind and aid sleep.

Geranium| A soothing rose floral oil that promotes mental wellbeing and uplifts the spirit.

Verdant Alchemy is a bath care brand that focuses on clean effective ingredients and natural goodness. In a nutshell we do not conduct any animal testing, we test on friends and family. We are also Paraben, phthalates and mineral oil free. We do not use synthetic fragrance or colours, all our products are fragranced with 100% essential oils.



Are your products natural and vegan?

Yes, all our products are natural and vegan.

How organic are your ingredients?

We only ever use a combination of natural and organic ingredients. We source our ingredients from certified suppliers where we know the supply chain is sound and there is no chance of contamination with GM or animal processes or ingredients. When we use organic it will be very clearly stated.

Please note that our bath salts are not organic because the salts are harvested naturally.

Are your products pregnancy safe?

Do not use if pregnant. Verdant Alchemy is rooted in aromatherapy and as a result all of our products have a high concentration of essential oils.

Where are Verdant Alchemy products made?

Each product is handmade in small batches and packaged in South London.

Are the products tested on animals?

Never. Only friends and family (lucky them).

What is the shelf life of the products?

Shelf life varies for each product and is specified on our product pages. Our products are water free and because of that we don't need to use any preservatives. Currently our bath products have a shelf life of 30 months, however, use within 6 months of opening.

How long will it take for delivery?

We process orders 1-3 business days of being received.

- Standard FREE delivery -- 3-5 days Royal Mail- not tracked.
- There are paid tracked options. Please use the drop down menu to see options

We are still a very small & new business there may be delays but we will get on it as soon as we can.

Where do you ship from?

We ship from London, UK.
Ascent Bath & Shower Oil 100ml
Full Ingredients
Prunus armeniaca kernel oil (Apricot), Polyglyceryl-4 oleate, Lavandula angustifolia herb oil (Lavender), Cupressus funebris wood oil (Cedarwood), Pelargonium graveolens flower oil (Geranium Rose), Cinnamomum camphora linalooliferum leaf oil (Ho Leaf), Tocopherol (Vitamin E), Glyceryl citrate/lactate/linoleate/oleate, Helianthus annuus seed oil (Sunflower), Glyceryl caprylate, Polyglyceryl-3 caprate, Polyglyceryl-4 cocoate, Vetiveria zizanoides root oil (Vetiver), Linalool, Limonene, Citral, Citronellol, Geraniol.

* Natural oils cannot be guaranteed free from traces of nuts or other allergens. Seek medical advice before use if suffering from any medical conditions or allergies. Always conduct a patch test before using any new product.
How To Use
For the bath
For the most amazing experience, massage a few drops of oil onto your décolletage, arm and shoulder and then step into a warm bath, taking a deep inhale. Or run a bath and add a 10-12 drops or about a 1/4 a cap (5mls) to running water. The oil is highly concentrated so a little goes a long way.
For the shower
Shower normally with your usual shower gel- and they add a few drops into the palm of your hands, take a mindful breath and inhale the wonderful scent before applying the oil to your neck and arms. The oil will turn into a milky consistency when it touches the water, leaving you moisturised but without a greasy film after your shower.
Safety
If using the oil in your shower routine, use it after your regular cleansing. The oil is designed to provide an aromatherapy experience in the shower and is not formulated to cleanse. Avoid sensitive areas.
Discontinue use if irritation occurs.
About us
Meet our founder Vivien
Meet our founder Vivien Leung. Explore how natural mineral rich bathing and clean products changed the way she lives her life and how it helped her manage modern issues such as stress and chronic pain.
Hand crafted in London
An extraordinarily amount of effort goes into sourcing our ingredients and hand making our products. We handcraft all of our bath salts and bath oils by hand in our London workshop, where we then hand label and then pack all our products to our customers. Our process ensures optimum freshness and the highest of quality when it arrives to you.
Certified COSMOS Natural
Our mineral bath salts are certified COSMOS natural by the Soil Association. The certification means we adhere to the highest standards, from ensuring our products are derived from natural origin sources or COSMOS approved ingredients to annual inspections of our ingredient supply chain and what cleaning products we use in production. 
Beautiful bath oils
The Verdant Alchemy oils are beautiful, luxurious, and smell divine. Wonderfully packaged in glass bottles. Highly recommend.
Relaxing, refreshing
This bath oil is amazing! I feel totally relaxed and refreshed in the bath once I've added a few drops, and it's got a fresh and fragrant smell. Would recommend to anyone wanting some luxurious me-time.
Wonderful
A lovely and satisfying product, lovely scent and leaves you feeling de-stressed and relaxed.
Perfect for bath and shower
I loved this oil, I used it in the bath and also in the shower. I actually quite like using it in the shower, it adds a splash of daily luxury to an otherwise mundane task. I'd apply a few drops to dry skin (torso) before getting in, then the steam and water would release all the aromas and it's just dreamy! The fragrance of this oil is so relaxing and also grounding. I love it. I've bought the bath salts in the same fragrance.
The most relaxing bath oil scent
I never thought bath oils can smell this nice. I love how I can cover my entire body with it and sink in the bath. It's both relaxing and makes my skin feel soft and supple.